Interview with Studio LS301
Studio LS301 is a young product and interaction design studio that has set itself the goal of making the handling of robots humane. They translate body languages into machine behavior to create an intuitive interaction based on real movement flows.
The DesignFarmBerlin supported Valentin Lindau and Jonas Schneider for 12 months in developing a strategy for getting into the market. In the beginning, while searching for producers for their cleaning robot 'Sweep', they figured out that knowledge and design approach in robotic interacting is highly needed in the German robotic market. Now they running studio LS301 driven by this purpose.
DesignFarmBerlin: You started at DesignFarmBerlin with the project Sweep. How did you come up with the idea and especially with the concept "machine-human interaction"?
J.Schneider / LS301: Human-machine interaction is not a new concept. The design of user interfaces is common practice, at least in the field of UX/UI design. However, a machine usually means a computer or a smartphone or tablet. In other words, the interaction is limited to two-dimensional applications on the display. We go one step further and want to focus more on the physical object. In view of the increasing automation of our everyday lives – be it in traffic, at work or at home – we see an increasing need for user-friendly and intuitive interaction concepts that are oriented towards the object itself. For us, Sweep is a kind of case study in which we show how autonomous technology can be usefully implemented. Here we analyzed the management of Alexanderplatz for the Berliner Stadtreinigungsbetriebe with regard to the tools and work steps of the employees and how their workplace can be upgraded and made more efficient through the use of new technologies. The result of our work is Sweep.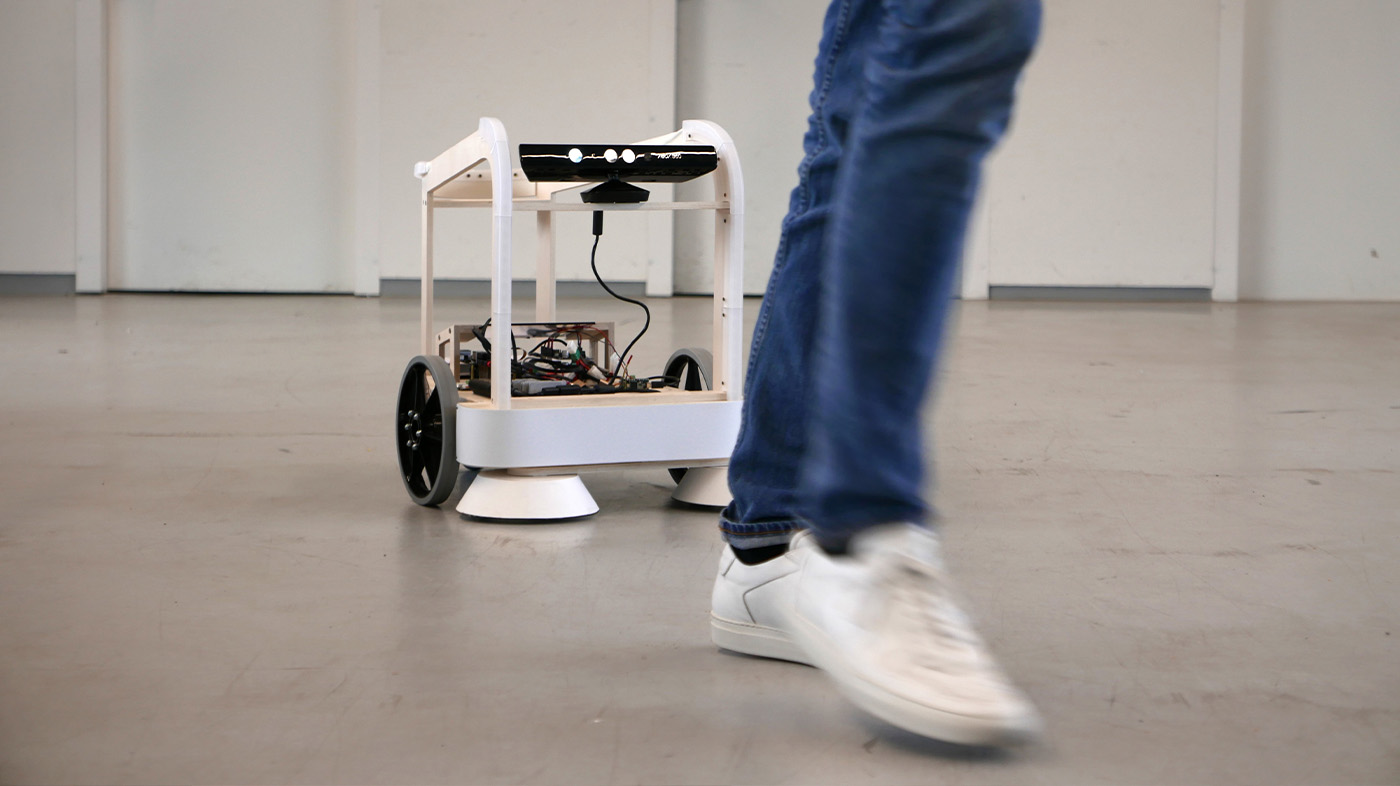 Working on physical prototypes is essential in order to give the driving behavior a specific character.
How was it working on the project as an (interface) Product designer? What kind of skills /disciplines you had to combine in order to create the outcome?
During our studies, we have already worked on many projects, which have illustrated different facets of the design work. I think the biggest challenge was to translate our ideas into physical interaction prototypes. As product designers, we usually use CAD software or various graphics programs to visualize and elaborate on our concepts. Prototypes are then built to evaluate proportions and handling on the physical object. In the Sweep case, however, much of the interactive design process took place on the prototype itself. It was not so much a question of proportions as of how the robot moves in space. We had to resort to the physical computing platform "Arduino" for this – we had never had to deal with microcontrollers and programming in such depth before.
"We are the inventors and minds behind the product..."
What was completely unexpected throughout the development of the Sweep project? How/what were the challenges throughout the process?
In the beginning, it was hard for us to define our role in the development of Sweep. Although we are the inventors and minds behind the product, we never intended to fully develop or distribute it ourselves. We wanted to continue to be creative and not mainly project management or coordinate other companies. During the negotiations about the cooperation, we became really aware of how we would like to pursue the project and how we would like to work in the future. This was the first time we talked about a collective design studio.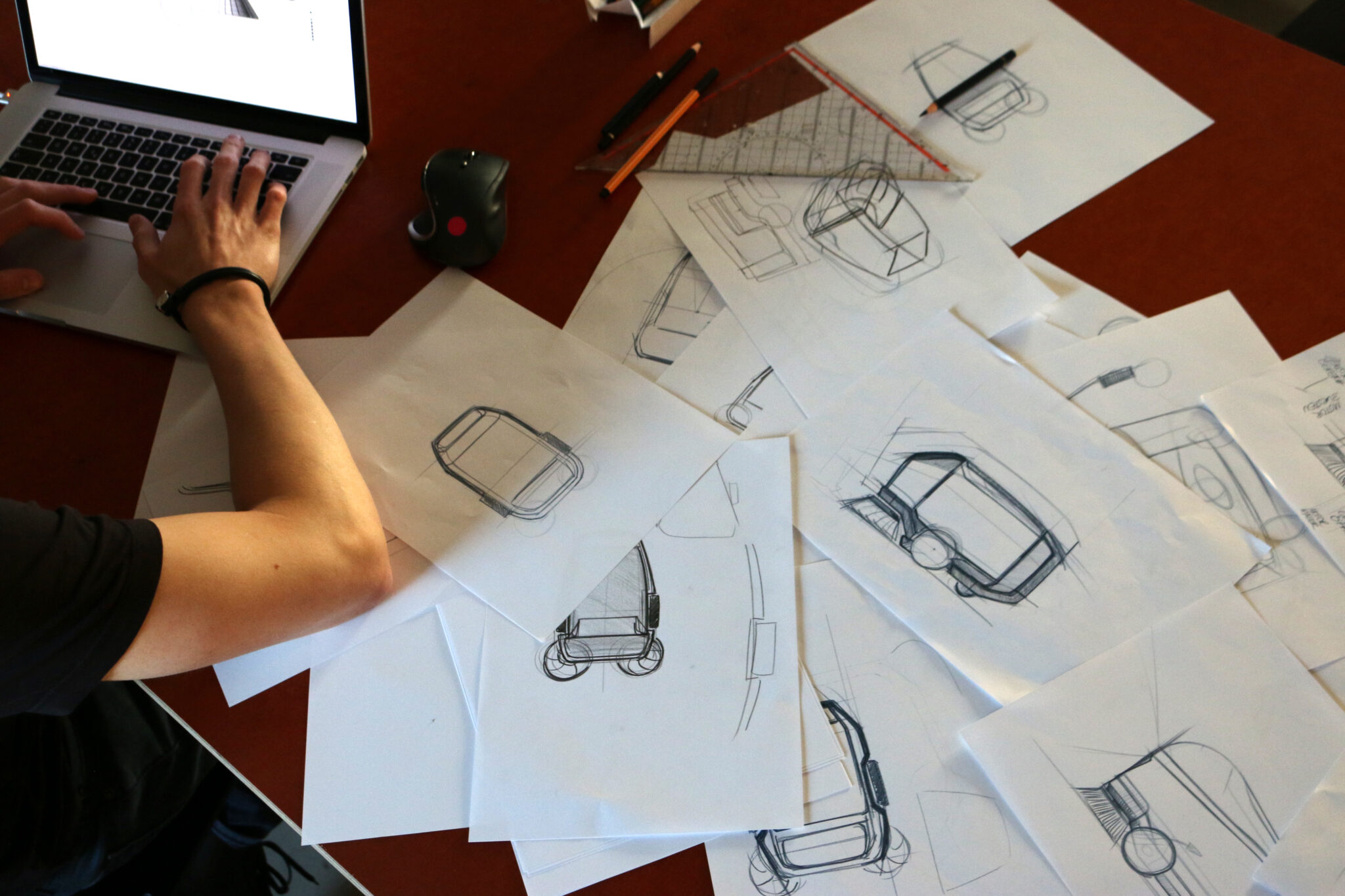 First design studies – The character of a robot lies in its combination of the formal shape and the movement behavior. 
As stated on LS301 website "One of the biggest challenges in establishing new technologies is human acceptance. For most of the autonomous products, there is currently a lack of communication and interaction with the environment". Are there possible ways to overcome this struggle or what kind of solutions would you think of in order to ease the communication?
Let's take the example of an autonomous vehicle. The task is clear – a vehicle must be able to get from A to B safely and as quickly as possible, without the intervention of a driver and in compliance with traffic regulations. Even if today we are still a long way from being driven to work by a self-propelled bus in the morning, the arrival of autonomous mobility is within sight. For us, the question at this point is not whether, but how these vehicles will move independently in the future. How do I know that the vehicle has seen me and will break? How do I recognize its intention? A robot must not be a black box but must communicate with its environment. Only in this way can a safe and humane coexistence take place in everyday life. The user still receives too little attention in the development process. This is because new technological developments in robotics are usually driven by engineers and programmers who lack a user-centered way of thinking. We believe that designers need to be more involved in the development process, especially at an early stage.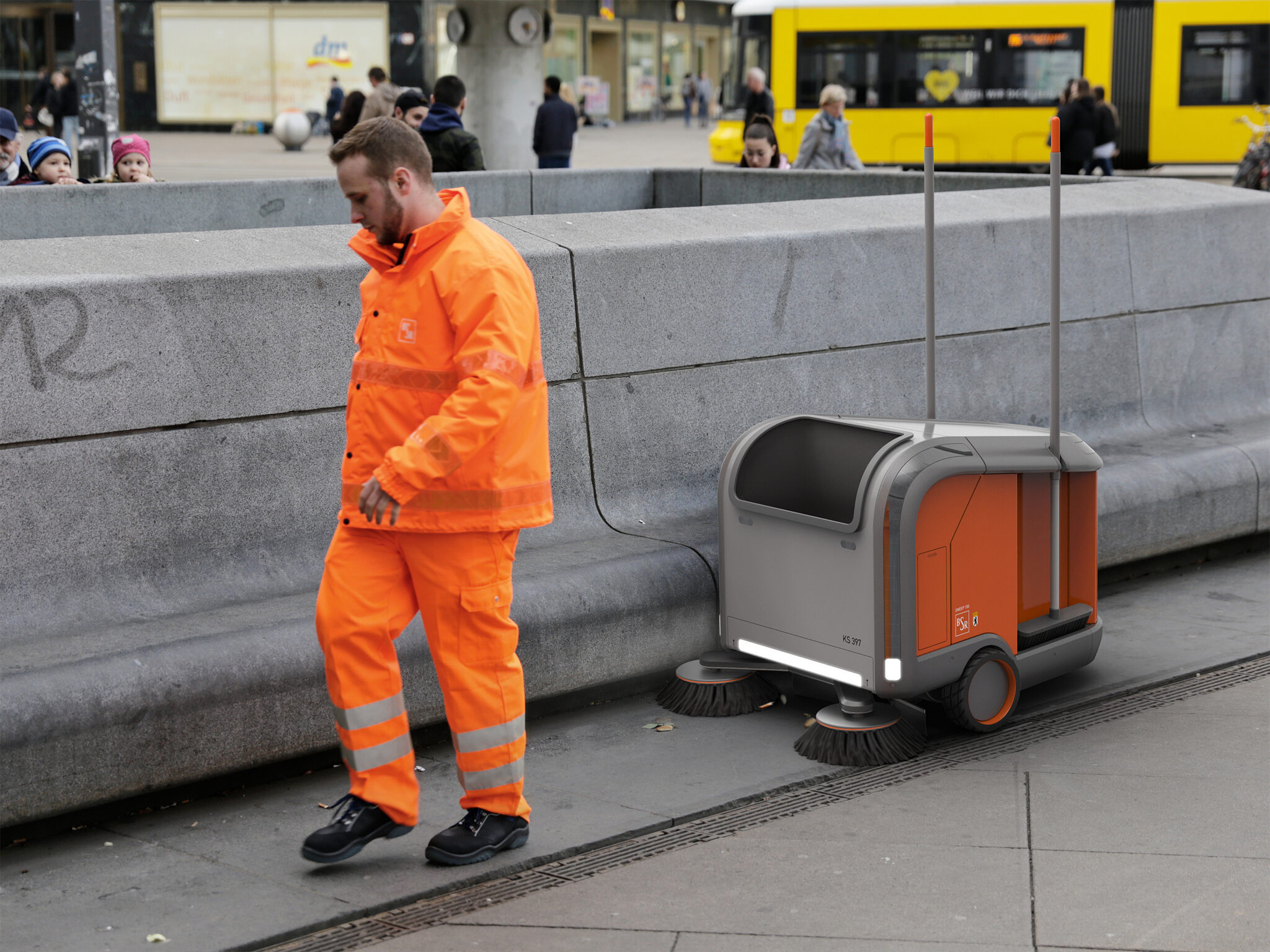 Sweep detects edges and automatically attaches itself to them.
You had a good run, in the beginning, contacting producers and companies. Can you tell about your experiences regarding the relations?
With BSR, we definitely had a strong partner with a good network in the industry at our side. This enabled us to quickly enter into negotiations at a higher level with BSR a convinced customer on our side, supporting us. Nevertheless, in the end, our concept was also convincing. With our semi-autonomous solution, we could minimize the technological effort and thus lower the customer's inhibition threshold for this new development. We are aware that for many established medium-sized companies, the step towards digitalization or automation of their products involves a great deal of effort and development costs. Especially when it comes to expertise in software development. That is why we worked together early with the Robotic Startup "Enway", which specializes in computer vision. We worked together for over a year with BSR and one of the market leaders for municipal technology in Denmark.
"We all react emphatically to things that move independently and thus suggest a life of their own"
Besides Sweep, you established an interaction design studio with a focus on autonomous objects. Could you please elaborate on your so-called "body language for autonomous technology"?
As briefly explained earlier, over the last year we have been working on a body language for autonomous technology. We understand it as a kind of toolbox, consisting of different communication and feedback mechanisms, which is oriented towards gestures and facial expressions in dealing with people and animals. It consists of five principles — Natural Appeal, Physical Phenomena, Mirroring, Prediction, and Reaction. The interaction of these principles enables the user to anticipate movements and directional changes of a robot and gives him continuous feedback on the state and intention of the autonomous machine. In this way, it is possible to give robots a lively character and a biomimetic habitus.
Amongst other things, we apply the empathy and intuition of the human being. We all react emphatically to things that move independently and thus suggest a life of their own. We use this as an important foundation stone for intuitive interaction.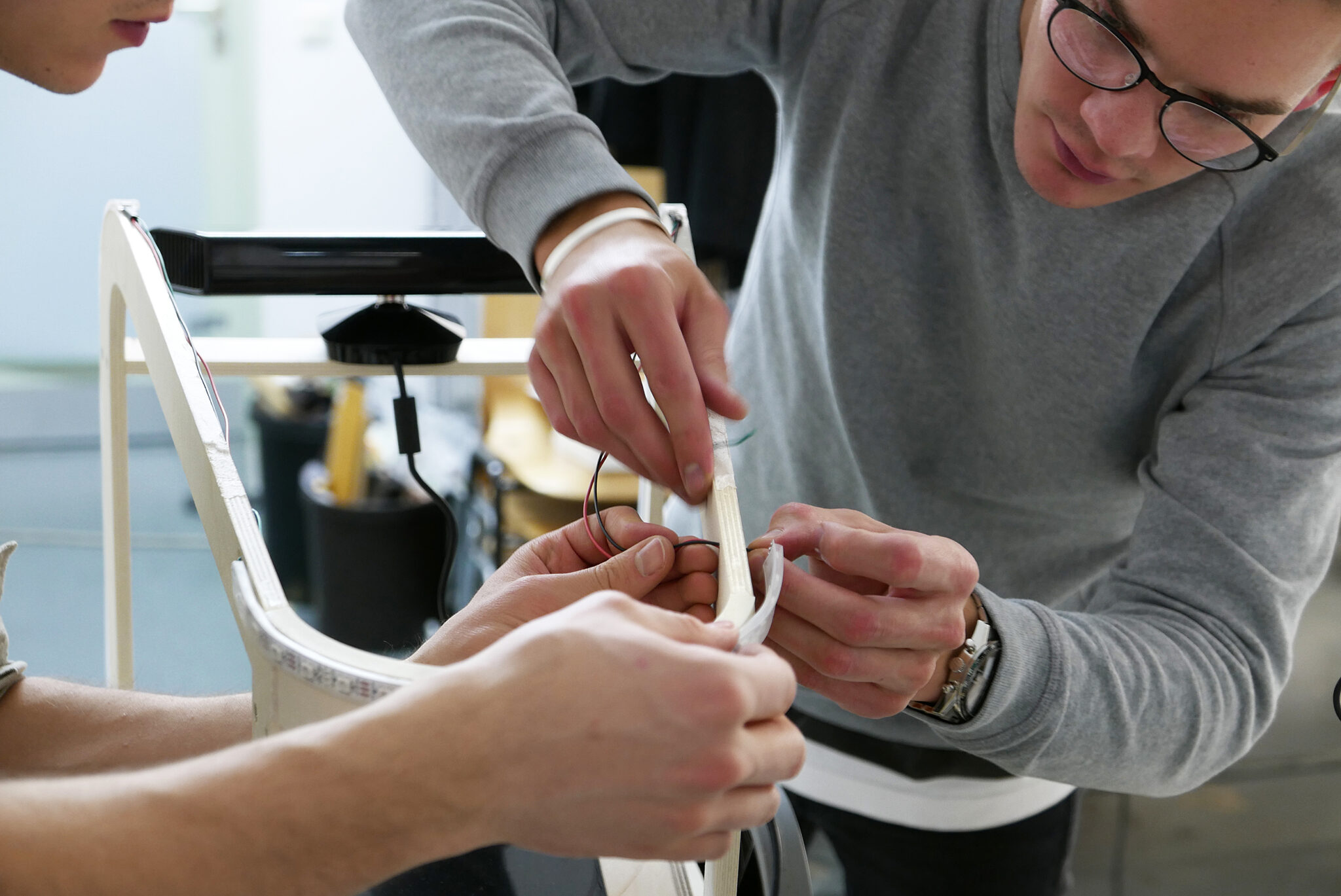 Working on the first LED unit of the Sweep prototype.
During the DesignFarm Application Workshop 1.2019, you made a presentation about your design background and joining DesignFarmBerlin. Could you tell a bit about that?
Our cooperation already began during our studies with the Bachelor project. Since then, we have worked together on several projects and have become a well-rehearsed creative team. We have been working together successfully for over four years now and have completed a large number of projects, both in a university context and for well-known clients such as BMW, BSR, and Nilfisk.
Before we founded the studio, we gained individual work experiences. Valentin started as an intern at the Porsche Design Studio during his bachelor's degree. After his internship, he was a permanent member of the Porsche Design Team in Berlin for more than four years, where he gained valuable work experience and sound industry knowledge in classic industrial design.
During and after my studies, I mainly gained experience as a freelance designer in the areas of layout, graphics, interaction and corporate identity. As an interaction designer, I see myself as Valentin's creative adversary in my joint work. My focus is especially on the communicative qualities of products, through the design of their movements.
At Studio LS301 we have a common vision: Our goal is to make the interaction between humans and robots humane and to promote human acceptance of new technologies. What motivates us is that we as designers can contribute to socially relevant issues and develop adequate solutions for the future.
Your studio focuses on, developing customized design solutions and creating product visions. Could you tell us how you combine product development and your work as design consultants in the tech field?
As designers, our strength lies in observation, creative handling of different influencing factors and limitations in the product development process. We always keep the user and his needs in focus. In most cases, new technological developments have their origin at universities or in research institutions, where technological possibilities are exhausted even before concrete applications are considered. Many developments in recent years have shown us that only technology that generates real added value for the user will prevail in the long term. With our user-centric way of thinking, we are able to bridge the gap and help our customers to use autonomous technology sensibly and develop better products for their users.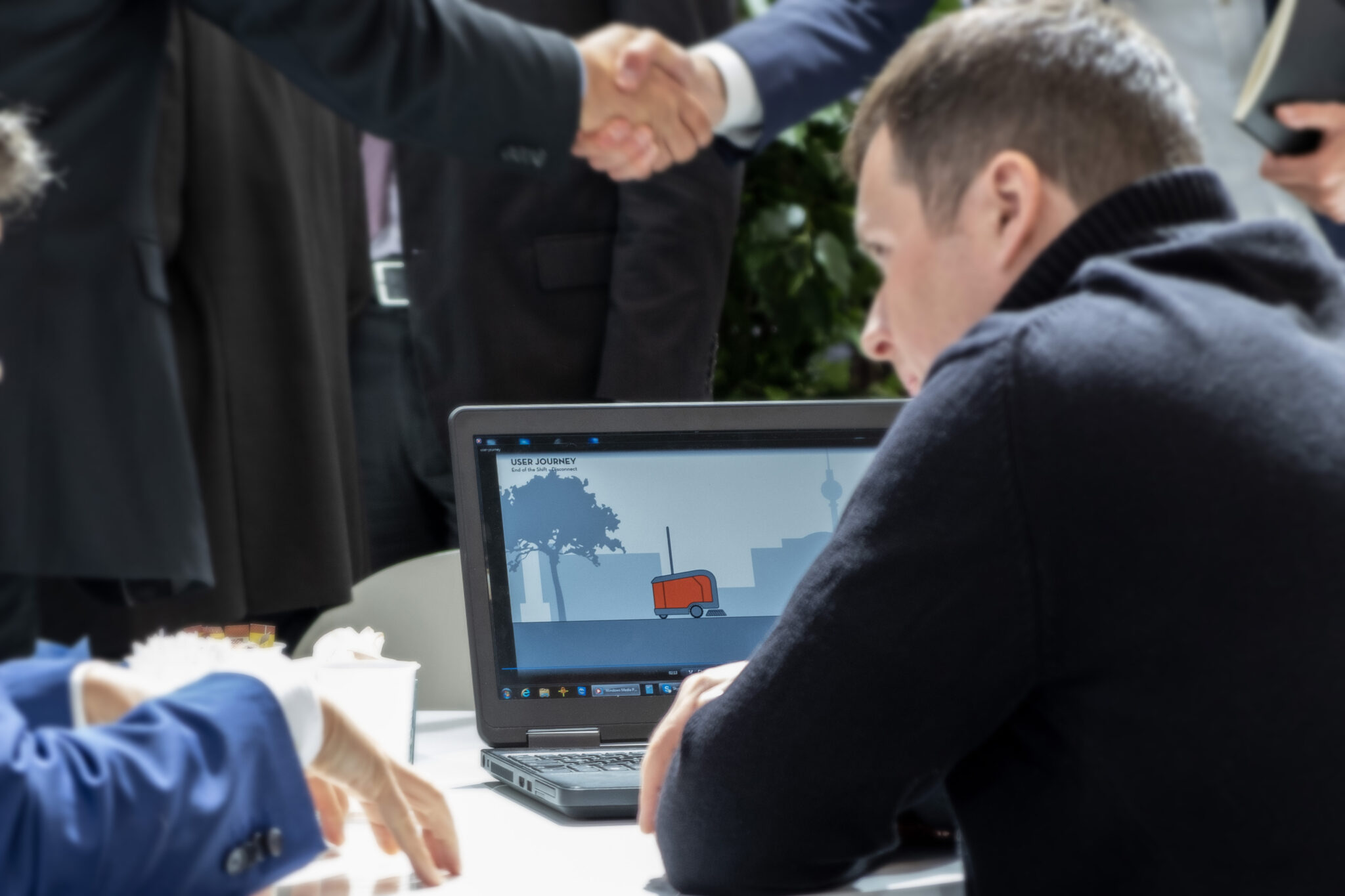 Sweep is a perfect basis to get the approach of Studio LS301 to new customers.
Could you tell a bit about challenges establishing an agency?
Before our foundation, we both worked as freelance designers for different companies. We have always been directly involved in the design work in the projects. Customer and project acquisition had always been handled by the other departments. Now, for the first time, we are noticing for ourselves how much time and effort there is in this phase of the project. That's a change, especially when you're dealing with large corporations. Until you commit on specific project content, 4-5 months may elapse before you actually start to work. During this time we work on projects with smaller companies.
So it's sometimes a real challenge to maintain motivation. As "creative people" we draw a large part of our motivation from specific project work on interesting questions. We are still at the beginning and currently take over all tasks in our company ourselves. This balancing act, between creative work and entrepreneurial activities, such as marketing, financial planning or acquisition, can sometimes be very exhausting.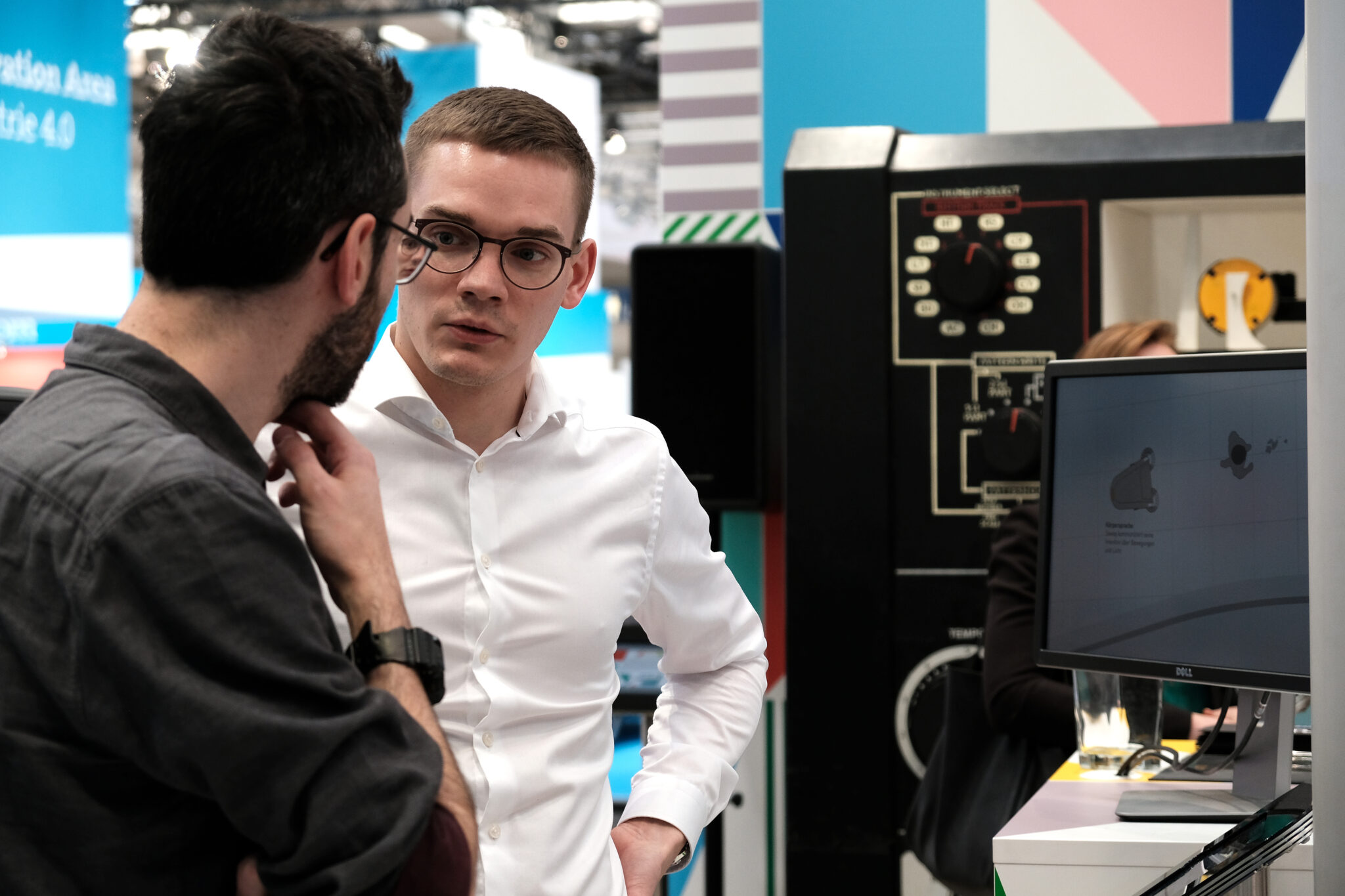 Hannovermesse 2019 – LS301 had their own exhibition stand at the Berlin Partner area.
What are you working on nowadays and what are you trying to improve ?
A few days ago we started with a very interesting project for a German premium household appliance manufacturer. With this cooperation we have the opportunity to help a traditional hardware manufacturer, who is confronted with a new competition through autonomy, to stand out from the competition in the future with its autonomous products, through sophisticated interaction and communication. We work closely with our business coach to improve our business skills. We are currently revising our business plan in order to take a closer look at all facets of our company.
Our participation at the Hannover Fair last week showed us that there is still room for improvement in the communication of our services and our visibility – but I guess that's something you always need to work on.